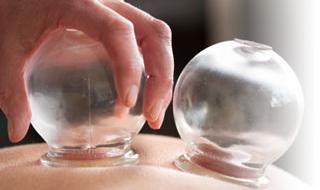 Cupping Glasses
Cupping glasses are commonly used along with acupuncture therapy in Traditional Chinese Medicine. Cupping therapy is a form of local suction created on the skin to increase blood flow and promote healing. Suction is created in the Cupping Glasses by using heat or mechanical devices forming an air tight seal. This action pulls in the soft tissue and draws blood into the area.

Fire Glass Cupping Set of 4 pcs
Small 1.5" dia.
Medium 1.9" dia.
Large 2.2" dia.
Extra large 2.5" dia
Item: W53126
---
Inspired by the traditional Northern European folk medicine this Finnish Style Cupping Set differs from regular cupping devices in that it provides negative pressure release to get rid of rigid soft tissue, drains excess fluid, toxins and help improve ...
Item: W53126FC4
---
The 5pc Color Glass Cupping St is ideal in a spa or clinic setting.

The kit includes One Each:
Extra Extra Large: 2.75 inches dia.; Dark Blue: Soothing
Extra Large: 2.5 inches dia.; Brown: Energetic
Large: 2.2 inches dia.; Light
...
Item: W53126GC
---
The Glass Cupping Set is made from durable and sturdy glass of various sizes with soft, smooth rubber suction bulbs. It is ideal for both surface and deep tissue cupping therapy by holding and releasing the bulb freely to apply pressure at different ...
Item: W53126GR
---
24 plastic cups per set with detachable magnets tailored for either magnetic cupping or standard cupping therapy
Sizes of small, medium, large and extra large
Combination of treatment with acupuncture, massage and Gua Sha (Scraping
...
Item: W53127
---
Kit includes: Glass Cupping Set 4 pieces/set Small, 1.5 inches in diameter x 1 each Medium, 1.9 inches x 1 each Large, 2.2 inches x 1 each Extra Large, 2.5 inches x 1 each Suction Cupping Set with Detachable Magnets 24 pieces/set Extra Extra ...
Item: W53127SK
---