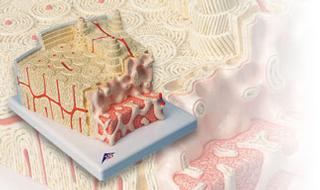 Microanatomy Models
View the smallest structures with crystal-clear accuracy!
3B Scientific® offers a full range of MICROanatomy™ models, each representing a different system of the body. There is no better way to teach about the structures of the human body than with an up-close, three-dimensional look.  Study the
renal system
,
hepatic system
,
digestive system
including the
tongue
, and so much more in a unique and ...
»»»

This extremely detailed bone structure model depicts a three-dimensional section of a lamellar bone, showing a typical structure of a tubular bone enlarged 80 times. The bone structure model shows various planes in cross and longitudinal section through
...
Item: A79 [1000154]
---

The model shows the spongy bone inside the bone. Its filigree architecture is determined by influences such as pressure, bending and torsion. Using innovative micro CT technology, we have managed to reconstruct an exact 3-dimensional copy of a piece ...
Item: A99 [1009698]
---

This micro-anatomy model magnifies the anatomy of the human muscle fiber approximately 10,000 times. This muscle model illustrates a section of a skeletal muscle fiber and its neuromuscular end plate. The muscle fiber is the basic element of the diagonally
...
Item: B60 [1000213]
---

The latest model in our 3B MICROanatomy™ series, the tongue, is fascinating in that it combines various enlargements of specific parts of the tongue in one model. It comprises a macroscopic view of the tongue in life size (dorsal view) and microscopic ...
Item: D17 [1000247]
---

The MICROanatomy™ Eye model illustrates the microscopic anatomical structure of the retina with choroid and sclera. The left block-like, layered side of the eye model shows the complete structure of the retina including the supplying vascular layer and ...
Item: F16 [1000260]
---

The artery and vein model shows a medium-sized muscular artery with two adjacent veins from the antebrachial area with adjoining fat tissue and muscle enlarged 14 times. The MICROanatomy™ circulatory system model illustrates the reciprocal anatomical ...
Item: G42 [1000279]
---

The 3B MICROanatomy™ Kidney is an extremely detailed model which shows the morphologic/functional units of the kidney. The kidney structures are greatly magnified. Six model zones illustrate the following fine-tissue structures of the human kidney ...
Item: K13 [1000301]
---

The 3B MICROanatomy™ Digestive System model illustrates the structure of the fine tissues of four characteristic sections of the digestive system:

Esophagus
Stomach
Small intestine
Large intestine
The front of the 3B ...
Item: K23 [1000311]
---
This 2-part 3B MICROanatomy™ Liver model shows a highly magnified diagrammatic view of a section of the liver. The 3B MICROanatomy™ Liver illustrates the structure of the functional and structural components of the liver in two different ...
Item: K24 [1000312]
---