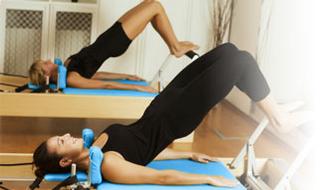 Pilates Arcs & Chairs
Isolate deep postural muscles and challenge the body on all planes of movement with our new FSC certified
Combo Chair
,
Ladder Barrel
, Pilates Arches made from Eucalyptus wood. Both the Ladder Barrel and
Arches
provide the user with an apparatus to stretch and strengthen the core muscle groups, while the Combo Chair adds the element of variable resistance.

The Combo Chair is a compact, multifunctional exercise station and is the perfect product for space-saving Pilates. It is ideal for studios and home gyms with limited space. Available in four colors.
---

Use the Pilates Half Moon Barrel (or Pilates Arc) to complement a mat workout or circuit session. The upholstered arch helps to support the back and shoulders and opens up the neck, hips and thighs, depending on the usage.

The Half Moon ...
Item: W15131 [1005016]
---

The Step Barrel, also commonly known as a Spine Corrector, is a versatile and compact piece of equipment used to strengthen the spine and relive pain in the back, shoulders and hips. The 3B Scientific Step Barrel provides superior comfort with an elongated ...
Item: W15174 [1005041]
---